Pages
Customer Testimonials
Snelson Companies
February 21, 2013
RE: BAMF 30′ Fish-Around
To Whom It May Concern:
Snelson Companies, Inc. is a national pipeline contractor and have been in business for over 67 years. Being located in the Pacific Northwest affords us the opportunity to share the many outdoor activities, specifically salmon fishing, both here and in Alaska with employees and friends around the country.
Snelson has owned and operated several fishing boats for corporate use for well over 30 years. We have purchased several makes and models over the years and the adage, "a boat is a hole in the water you pour money into" has been accurate up until the time we purchased the BAMF 30′ Fish-Around in the fall of 2010 from Mike Keating.
We commissioned Mike to build us a custom-made fishing vessel that we could use i Southeast Alaska from May through August each year. Mike and his crew were very willing to make adjustments we wanted during construction and the final product was more than we hoped for.
2013 will be our third season using the Fish-Around in Sitka, Alaska. Besides being an excellent crafted boat, probably the most impressive aspect is that is has been essentially maintenance free. We can count on the Fish-Around to perform exactly as intended without worry of breakdowns.
I have no reservations in recommending the BAMF brand to others looking for a safe, reliable, comfortable and seaworthy vessel.
Sincerely,
James C. Johnson
Equipment Manager
To Whom It May Concern;                                                 March 15, 2011
My son Chad and I have enjoyed many years of boating and fishing here in the Northwest. We have had several boats and have been looking to upgrade from the 21.5 Duckworth Navigator that we ordered new in the winter of 2005/06. In recent years we have been fishing off the Washington and Vancouver Island Coasts. Most evenings after fishing include a walk around the harbor looking at various boats and how they are equipped.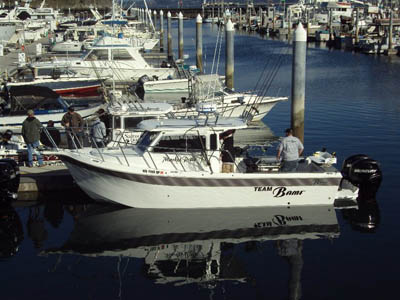 Late last year we got the bug to make our move to upgrade. Upon our first sighting of the BAMF line up we knew the itch had set in….Our first walkthrough was like love at first sight. These boats had everything and more for what we wanted and dreamed of for so long. Clean lines, deep gunnels, true walk around deck with high super strong railing….1 ¼" polished stainless steel…check it out, most are 1" at best. The cabin is very comfortable with great visibility in all directions, aft deck is large and flat for sure footing….the textured Scorpion deck coating is just another example of the attention to detail. 2 large 50+ gallon fully insulated flush in the floor fish boxes with macerator drain pump. THESE GUYS KNOW BOATS, ESPECIALLY FISHING BOATS!
We purchased a 25' Alaskan with twin 150 Mercury Verado power. We asked for only a few modifications….Wallas heater, 3rd wiper, a couple of ceiling grab bars and cockpit controls which the folks at BAMF gladly accommodated for a very reasonable price. The balance of the modifications including electronics we completed ourselves….we enjoy the process. We did need to call for a few pieces of advice…our calls were gladly accepted and the help was accurate and timely.
In the process of installing radar, GPS, sonar, radios, downriggers etc. we came to realize just how good of a decision we'd made. Pulling wires, drilling holes gave us the opportunity to see just exactly what this boat is made of….Rock solid! What a comfort it is to know the quality behind the cushion. We also came to realize the factory components are top notch, not entry level like so many other boats. When we took the boat in to have our Furuno equipment certified "installed to factory specifications" the technician made several comments that he had not seen this kind of quality in a long time. Just one example, he couldn't believe the heavy gauge wire that was used to run from the batteries/circuit breakers to the distribution/fuse panels. He was very impressed with the attention to all details…and he sees a lot of boats!
We recognize these folks are in the early phase of building this business. They work hard, cover all the details and provide good value not seen in one of the "stamp out another one" competitors. We have enjoyed being a part of a truly American built from the earth business.
In closing, I mentioned earlier our Duckworth…it was a flashy eye catcher of a boat. Easy To See you might say…anyway we always enjoyed the attention this boat brought from other boaters/fishermen…..Having taken our new BAMF out only a few times so far one thing is clear. We'll continue to be Easy To See and have lots of friends and attention in the harbor.
Blain and Chad Burgess
BAMF 25 Alaskan
*Market Price
Growing up in the northwest and chasing the salmon I have had a few trips on the water, some better than others. But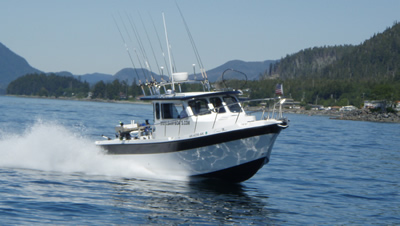 the one I would like to share with you is the 2009 Anacortes Fishing Derby on a brand new 29' BAMF fish-around. The weather is not so predictable in the month of March in Washington state even so we fish this Derby every year and I was looking forward to whatever Mother Nature had in store.
The boat's stylish lines and spacious deck makes it easy to competition fish and step into a heated cabin for comfort. We caught some fish and made a showing at the weigh-in table, placing for a small prize. I could not believe the fuel gauges as it seem we had bonus power and speed, but consumed very little. We saw most of the San Juan Islands twice with the currents and the water conditions that presented themselves; I was impressed by the boats ability to handle like a ski-boat on steroids. I think any boater looking for a well rounded fishing vessel should take serious consideration at the BAMF before making a purchase in today's market. If you want clean well thought-out engineering and craftsmanship this isthe best-built boat in my opinion. If you would like to experience the BAMF fishing call Big Blue Charters and book a trip in Sitka.
                      Matt Mussivand