Pages
Take a Walk on the Reel Side!
BAMF Construction
BAMF boats are designed and manufactured to give you quality, comfort, safety and a higher value over time. Built with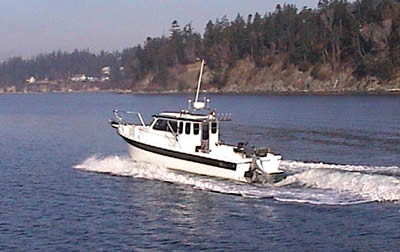 today's highest quality resins and materials combined with our experience of hand-laid up procedures our boat meets top quality standards. BAMF boats are extremely rugged: Kevlar reinforced keel, foam core construction for thermal and acoustic comfort and hull thickness of ¾". Our integral molded in stringer grid prevents any long term rot or water absorption giving our hull a lifetime of durability. It all adds up to the best built safest and most comfortable boat you will ever own.
Step 1: in building a BAMF super thick hull applying the first layers of vinyl ester resin and Spray-Core, which results in a higher gloss finish and reduces the chance of hull blistering and print-thru. We then lay a layer of Kevlar along the keel before we laminate adding up to ¾" of hull thickness.
Step 2: BAMF integral stringer grid system gives our hull incredible rigidity. The molded in stringer incorporates insulated fish boxes, sealed tanks, and foamed in flotation, effectively creating watertight integrity throughout the hull. BAMF is committed to this stronger and heavier design because it ensures stability and a long service life. It's the kind of construction charter fishing operators demand.
Step 3: during assembly all components are installed with accessibility and top quality fasteners, marine grade wire and connectors. Every part and component is the best quality on the market, ensuring longevity and reliability.
As you can see the BAMF is a "heavy Duty Commercial" quality built boat. The BAMF was designed to be a boat that will last for years and prove to be the safest boat on the water. Feel free to inquire about any construction questions by email: nate@bamfboats.com .